Developing Potential Leaders
Developing Potential Leaders is a brief overview of the process of developing the right people for the right positions. Developing Potential Leaders is the highest call of leadership.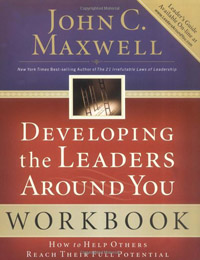 Developing Potential Leaders
Developing Potential Leaders is the highest calling of leadership. The process is designed to build into them, to bring out their best qualities, to develop their character and to help them discover and reach their potential as future leaders.
Because the development of leaders requires time, attention and commitment, you will only be able to work with a few people at a time.
You nurture all your people and you equip many; however, you will only be able to develop a few - a few who are ready and willing.
To develop people, you will need to understand the differences between nurture, equipping and development. Nurture is about establishing. Equipping is about training and development is about personal growth.
All personal growth begins with motivation. As a developer of leaders, you will need to discover their motivation and harness it. Find out what they want. Help them get what they want and reward them if successful.
A developer of leaders is a good listener. He hears their ideas and give them opportunity to contribute. Every idea is a good idea until you have settled on the best idea.
1. Develop a Personal Plan For Growth
As the old saying goes, "If you aim for nothing, you will hit it every time." Therefore, you need to set in place a plan for growth. This requires putting aside time each day for growth, quickly file away what you learn, quickly apply what you learn, grow with someone and plan your growth and follow it for a year.
Putting time aside each day means spending time with God, listening to tape or videos on leadership and reading books about leadership. A daily discipline will pay great dividends for your personal growth.
2. Keep the Growth Going
The point of the growth journey is not the arriving but what you learn on the way and whom you have become on the way.
3. Use the Four-Stage Process of Adaptation
New concepts are best learned visually. Let them see the new concepts (relating to leadership development) so that they can understand them. Emotions play a part in accepting new concepts. Give them time to adjust emotionally. Once they understand, they are ready to give them a try. After people see something new, accept it emotionally and experience it positively, it usually becomes a conviction, that is, it becomes a part of their thinking and their belief system.
4. Strive For Excellence
Vince Lombardi said, "The quality of a person's life is in direct proportion to their commitment to excellence, regardless of their chosen field of endeavor." When excellence is the standard, the best will hit the mark every time.
5. Care Enough To Confront
Praising people takes effort but it is pretty easy to do. However, dealing with negative behavior is tougher. Many people avoid conflict. However, this only worsens the situation.
Conflict resolution at its best is a win-win situation. Keep in mind these guidelines for conflict resolution and you will have many win-win situations.
Separate the person from the wrong action
Confront only what the person can change
Give the person the benefit of the doubt
Be specific
Avoid sarcasm
Avoid words like always and never
The the person how you feel about what was wrong
Give the person a game plan to fix the problem
Affirm him or her as a person and friend
Positive confrontation is a sure sign that you care for a person.
For more information about this subject, click on developing potential leaders.
Related Resources and Tips
Becoming A Christian Leader: Becoming a Christian Leader outlines the qualities and abilities of those people who have the potential to be Church leaders.
Collaborative Leadership Style: Collaborative Leadership Style is about working together and adding value and synergy to the team. In other words, collaborative leaders style is about completing one another not competing with one another.
Discovering The Leadership Styles: Discovering the Leadership Styles examines the biblical gift of leadership and how that gift of leadership is expressed in different ways.
Leadership Ability Determines Leadership Effectiveness: Leaders Ability Determines Leadership Effectiveness is a concept that John C. Maxwell develops in The Law of the Lid. In other words, to increase your effectiveness, you need to raise your level of leadership.
The Law of the Big Picture : The Law of the Big Picture states that the goal is more important than the role. In other words, if the team is to reach its potential, each member must be willing to subordinate his personal goals to the good of the team.
The Stakes of Leadership: The Stakes of Leadership is an article that looks at the importance of leadership in the local church. After all, the local church is the hope of the world.
What Leaders Do: What Leaders Do is a brief explanation of the six primary areas of activity associated with Christian leadership in the Church. Developing Skills for Church Leadership is associated with knowing these six primary areas of activity.
Who Is Your Toughest Leadership Challenge: Who Is Your Toughest Leadership Challenge examines The Art of Self-Leadership. The most overlooked area of leadership is this area of self-leadership. After all, the toughest management challenge is always yourself.