Becoming A Church Leader
Becoming a Christian Leader outlines the qualities and abilities of those people who have the potential to be Church leaders.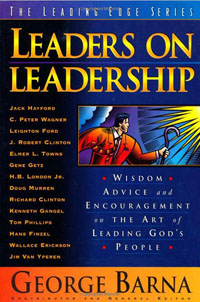 Becoming A Christian Leader
Becoming a Christian Leader is a brief overview of an article written by Kenneth O. Gangel, "Becoming A Spiritually Mature Leader."
When the apostle Paul wrote to Timothy and Titus, he wanted them to know in no uncertain terms what to look for in potential leaders.
It is interesting to note that Paul said very little about skills or abilities or even gifts when he outlined the requirements for potential leaders. It seems his main focus was on character qualities. By the way, this is self-evident when you read 1 Timothy 3 and Titus.
However, it is not to say that Paul did not require skills and abilities because he said that these potential leaders were to "exhort in sound doctrine and to refute those who contradict" (Titus 1:9).
People who have knowledge, skills and abilities without the qualities outlined in Timothy and Titus can easily and efficiently lead people in the wrong direction. Now this was already happening in both Ephesus and Crete.
Therefore, gifted people without the character qualities mentioned in Timothy and Titus could have the potential to create enormous problems in leadership positions. As Getz said, "Giftedness without character is lethal."
Summing it all up, putting ability before character can literally destroy an organization. As Getz said, "All it takes is one strong ego-driven person to disrupt unity and create almost intolerable divisiveness.
Character Qualities For Potential Leaders
1. Potential Leaders Are Exemplary
Potential leaders must be above reproach. The apostle Paul was not talking about perfection but personal reputation. In other words, people who were spoken well of in the church and outside the church. People who were practicing what they preached.
2. Potential Leaders Are Morally Pure
Potential leaders should be loyal to their spouse. In other words, if you cannot trust a person to be loyal to their spouse, you cannot trust that person to be loyal to an organization. It doesn't matter if that person is Christian or non-Christian.
3. Potential Leaders Are Temperate
Temperate leaders are well-balanced leaders. They avoid extremes that sidetrack them from the purposes of God.
4. Potential Leaders Are Prudent.
Prudent leaders are wise, discerning and experienced. Their lives reflect true humility and grace. Of course, this person would be a person of prayer.
5. Potential Leaders Are Respectable
Respectable leaders are well-liked people. They are able to translate "good thinking" into "proper actions." They live lives that are attractive to unbelievers.
6. Potential Leaders Are Hospitable
Hospitable leaders are unselfish, generous and willing to share their earthly blessings with both Christians and non-Christians.
7. Potential Leaders Are Teachers
Potential leaders are able to communicate the TRUTH in a nondefensive and nonthreathening way. They demonstrate gentleness, patience and teachability without compromising the Word of God.
8. Potential Leaders Are Free From Addition
Potential leaders are not in bondage to sinful cravings of the flesh. They do not over-indulge.
9. Potential Leaders Are Not Pugnacious
Potential leaders are able to control their angry feelings. They do not express these feelings in hurtful ways. In fact, they deal with them so that they do not linger.
10. Potential Leaders Are Gentle
Gentle leaders are able to demonstrate strong convictions in a loving way. They are able to take a stand for righteousness in a way that reflects a loving spirit.
11. Potential Leaders Are Not Contentious
Potential leaders are not argumentative, controlling and manipulative. They need to relate to others by communicating in a loving way.
12. Potential Leaders Are Generous
Potential leaders must not be lovers of money. Instead, they are to be generous in their giving to the work of God.
To read this article by the original author, click on the following link Becoming A Christian Leader.
Related Resources and Tips
Hermeneutics: Hermeneutics is a set of principles that is used to determine the meaning of the biblical text under investigation. Understanding hermeneutics is paramount in developing a consistency in the interpretation of Scripture.
How To Study The Bible Effectively How To Study The Bible Effectively explains the four processes for studying the Bible. Once you learn these processes, you will find bible study so much more interesting.