Sermons From the Book of Philippians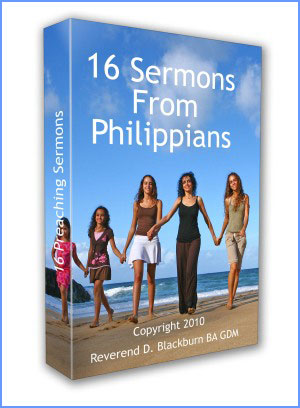 Sermons from the Book of Philippians provides sixteen full manuscript sermons from the book of Philippians.
Sermons From the Book of Philippians
There are sixteen (16) full manuscript sermons now available from the Book of Philippians. Over 140 pages of preaching sermons. All the hard work has been done. By the way, these 16 full manuscripts follow the sermon outlining method presented throughout this website.
Preview These Sermons From the Book of Philippians Now
A Brief History of Philippians
It was during Paul's second missionary journey in AD 49 that the church at Philippi was founded.
Acts 16 tells us that Paul shared the gospel of Jesus Christ with several women of which Lydia was converted. It seems she was the first convert at Philippi.
Paul's second convert was a demon-possessed girl. This young girl heard the gospel, believed and became a Christian.
However, Paul was thrown into jail for preaching the gospel. This led to his third convert - the Philippian jailer. Of course, Acts informs us that his whole family was converted to Christianity.
Out of this emerged the church at Philippi.
It was twelve or so years later that Paul found himself under house arest in Rome. The church at Philippi sent their pastor, Epaphroditus, to minister to Paul and bring a gift.
During this visit by Epaphroditus, Paul received word that there was disunity in the church at Philippi.
Rivalry and tension between people in the church inspired Paul to write a letter (The Book of Philippians) to urge them to live the Christian life in harmony.
The theme of the Book of Philippians is Living the Christian Life to the Glory of God.
Of course, disunity does not bring glory to God. Therefore, Paul encouraged the believers at Philippi to work out their tensions in order to glorify God.
The Writing of Philippians
It seems that Paul was under house arrest in Rome when he penned the Book of Philippians (Romans 1:13). Most commentators put the time around AD 61 or AD 62.
The Purpose of Philippians
While under house arrest in Rome, Paul penned the letter to the church at Philippi to thank them for sending Epaphroditus and the gift. Moreover, Paul took the opportunity to address some of the problems facing the young church - rivalry and tensions (Philippians 2:3-4), Judaism and its extremes (Philippians 4:2) and teaching by the antinomians (Philippians 3:18-19).