What is regeneration in the Bible? The apostle Paul said in 2 Corinthians 5:17, "If anyone is in Christ, he is a new creation; old things have passed away; behold, all things have become new." So how do we become new creatures in Christ?
The apostle Paul explained that man in his natural state is dead in trespasses and sins until he is made alive by Christ (Ephesians 2:1, 5). This is called regeneration.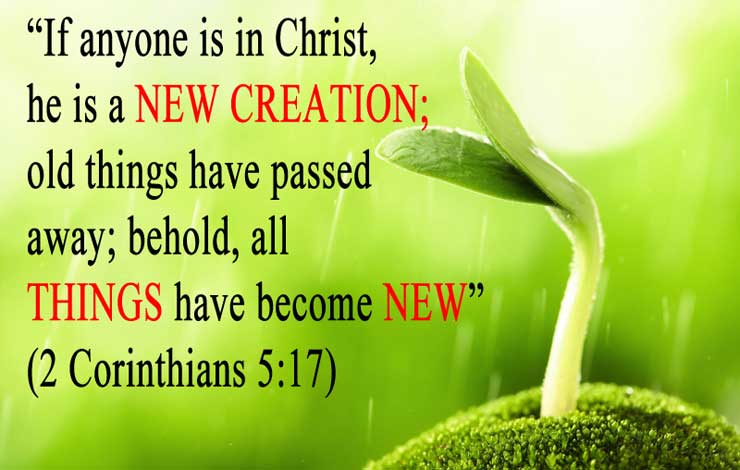 What is regeneration?
Regeneration means to be born again. It is the work of God which gives new life to the one who believes. "Not by works of righteousness which we have done, but according to His mercy He saved us, through the washing of regeneration and renewing of the Holy Spirit" (Titus 3:5). Regeneration is a work of God within the believer in which he gives the believer new life.
When does regeneration take place?
The Bible tells us that "the natural man does not receive the things of the Spirit of God, for they are foolishness to him; nor can he know them because they are spiritually discerned" (1 Corinthians 2:14). Also Jesus said that "no one comes to me unless the Father who sent me draws them" (John 6:44).
In light of these two Scriptural verses, it seems that regeneration happens around the time we hear and believe the Gospel. Most commentators suggest that regeneration and faith occur at the same moment. However, from our perspective it is hard to tell because regeneration is a spiritual work that we cannot perceive with our eyes or even understand with our mind.
We do know that to understand spiritual truth, God must regenerate us, that is, God must give us new life. This must be instantaneous. Nevertheless, we do not always know exactly when this happens, especially if we are children growing up in a Christian home or if we attend an evangelical church or Bible study over a period of time.
Some people grow gradually in their understanding of the gospel and cannot pinpoint an exact time. Other people can recall the exact time when God radically changed them from a "harden sinner" to a "holy saint." This helps us understand what is regeneration in the Bible.
What is the means of regeneration?
The Bible tells us that god regenerates (John 1:13) in accordance with His will (James 1:18) through the Holy Spirit (John 3:5) when a person believes (John 1:12) in the gospel of Jesus Christ as revealed in the Word of God (1 Peter 1:23).
What are the fruits of regeneration?
If regeneration takes a person from death to life, then the fruit of regeneration must be new life in Jesus Christ (2 Corinthians 5:17).
This new life in Jesus Christ enables the believer to live a life of faith and holiness. This is where we see the fruits of regeneration. This is where God begins to sanctify the believer – mold and shape the believer into the person He intends him to be (Romans 8:28-30).
Therefore, the believer seeks to live a life that is pleasing to God by putting aside the sinful patterns of the old life (1 John 3:9). The believer now has the ability to overcome the pressures and temptations of the world (1 John 5:3-4). The Holy Spirit also keeps the believer safe and protects him or her from the evil one (1 John 4:4; Ephesians 6:10ff).
Resource Material – What is Regeneration in the Bible?
Systematic Theology: Introduction to Biblical Doctrine by Wayne Grudem
Christian Theology: Unabridged, One-Volume Edition by Millard J Erickson
Evangelical Dictionary of Theology by Walter A Elwell, Editor
The Moody Handbook of Theology by Paul Enns