Free Funeral Sermons
Giving People Hope and Assurance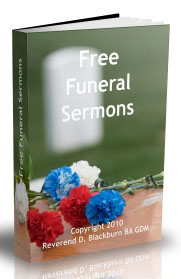 Dear Fellow Preachers,

Funeral services are never easy for ministers. When death comes knocking, grief and sorrow are real for both Christians and non-Christians.
A Christian funeral however brings hope and assurance to one's life because of Jesus Christ. For the Christian, death is not the end but only a change of place. A Christian funeral focuses on the hope and assurance we have in Jesus Christ.
A non-Christian funeral is more difficult to prepare and share. But still we as ministers need to highlight people's need for Jesus Christ in a sensitive way.
I have written many funeral sermons over the years - both non-Christian and Christian. The funeral sermons I have made available bring out the hope and assurance we have in Jesus Christ.
These Funeral sermons are FREE. Hopefully they will assist you in preparing your funeral message.
Fill in the Required Fields
For Your Free Funeral Sermons
Be Sure to Enter Your Main Email to Recieve these Free Funeral Sermons You Are Requesting.
Sincerely,
Reverend D. Blackburn BA GDM

www.more-free-online-sermons.com
P.S. - My prayer is that these free funeral sermons will assist ministers in their presentation of God's Word to God's people.