3 Aspects of Salvation in Christ Jesus: There are three biblical words that expand and explain salvation in Jesus Christ. These three words are: justification, sanctification and glorification. Below is a very brief overview of these three biblical words.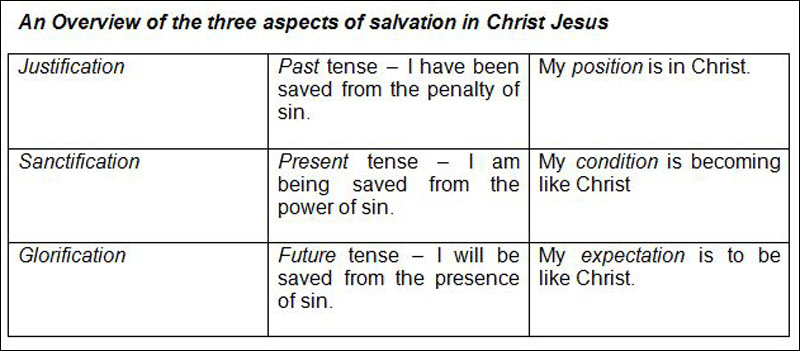 Justification – My Position
God's holy law has condemned every human being. "There is none righteous, no, not one" (Romans 3:10). "For all have sinned and fall short of the glory of God" (Romans 3:23).
Sin has separated every human being from God. "And you…who were dead in trespasses and sins" (Ephesians 2:1). "And you, who once were alienated and enemies…yet now He has reconciled [you]" (Colossians 1:21).
Sin separates humanity from God but Jesus Christ reconciles humanity to God through His death, burial and resurrection. "For He made Him who knew no sin to be sin for us, that we might become the righteousness of God in Him" (2 Corinthians 5:21). "For Christ also suffered once for sins, the just for the unjust, that He might bring us to God" (1 Peter 3:18).
What this means is that God has made sinners right with Him through the atoning, substitutionary death of Jesus Christ. Jesus died in the sinner's place. Jesus took the punishment in order to make sinners right with God. "Being justified freely by His grace through the redemption that is in Christ Jesus" (Romans 3:24).
When sinners receive Jesus Christ, they are placed in Jesus Christ. This is what makes sinners righteous. Sinners are made the righteous of God in Him (2 Corinthians 5:21).
Justification does not mean that God makes sinners righteous. Justification means that God has declared sinners righteous in Jesus Christ. Justification emphasizes the sinner's position in Jesus Christ.
Justification is a legal act, not a process. It is a work of God, not of man. There are no degrees of justification. Every believer has the same right standing before God.
Sanctification – My condition
Justification is instantaneous but sanctification is ongoing. Sanctification is an ongoing journey in which God works in and through believers in order to make them like Jesus Christ (Romans 8:29).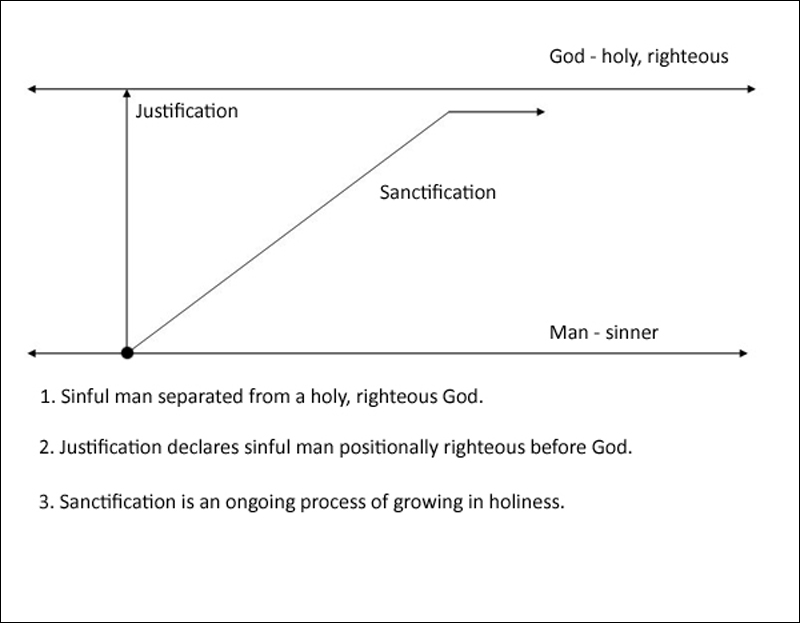 Sanctification begins at conversion – the moment God's justifies the sinner. "Therefore, if anyone is in Christ, he is a new creation; old things have passed away; behold, all things have become new" (2 Corinthians 5:17).
Justification is entirely God's work but sanctification requires the believer's cooperation. God has broken the power of sin in the believer's life. The believer must now make choices. "And do not present your members as instruments of unrighteousness to sin, but present yourselves to God as being alive from the dead, and your members as instruments of righteousness to God" (Romans 6:13).
Sanctification is a life-long journey which is completed at death or when the Lord returns.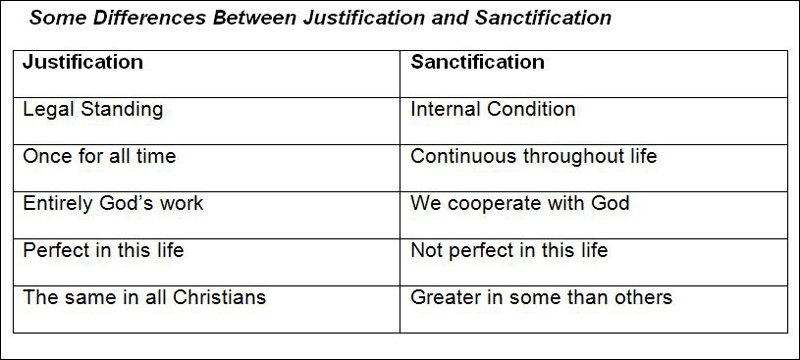 Glorification – My Expectation
Glorification is God's final removal of sin from the life of the believer. The full realization of this will occur when believers are given resurrected bodies (Romans 8:23).
Glorification consists of the redemption of the body. "What is sown is perishable, what is raised is imperishable. It is sown in dishonor, it is raised in glory. It is sown in weakness, it is raised in power. It is sown a physical body, it is raised a spiritual body…. Just as we have borne the image of the man of dust, we shall also bear the image of the man of heaven" (1 Corinthians 15:42-44, 49).
The believers' new bodies will be imperishable (1 Corinthians 15:42). This means believers' bodies will not wear out or grow old or be subject to sickness and disease. In fact, believers' new bodies will be characterized by youthfulness and maturity.
The believers' new bodies will be raised in glory (1 Corinthians 15:43a). This suggests beauty, attractive in appearance and radiance. "The righteous will shine like the sun in the kingdom of their Father" (Matthew 13:43).
The believers' new bodies will be raised in power (1 Corinthians 15:43b). This is in contrast to the weakness of earthly human bodies. The believers' new bodies will be strong and powerful, not infinite power like God or superhuman power but strength that will enable all believers to do what God wants them to do in the new heavens and new earth.
The believers' new bodies will be raised a spiritual body (1 Corinthians 15:44). This does not mean nonphysical but rather consistent with the character and activity of the Holy Spirit.
The believers' new bodies will be like Christ's resurrected body (1 Corinthians 15:49). "When he appears we shall be like him" (1 John 3:2). This is true not only in an ethical sense but also in terms of the believer's physical body.
Justification, sanctification and glorification are 3 aspects of salvation that help us understand our Christian journey.
3 Aspects of Salvation in Christ Jesus Source Material
Systematic Theology: Introduction to Biblical Doctrine by Wayne Grudem
Christian Theology: Unabridged, One-Volume Edition by Millard J Erickson
Evangelical Dictionary of Theology by Walter A Elwell, Editor
The Moody Handbook of Theology by Paul Enns
Systematic Theology by Louis Berkhof