The Pursuit of Holiness
The Pursuit of Holiness by Jerry Bridges is a stirring book on the need to pursue holiness in the Christian life. This compelling book will encourage Christians to practical holiness with God.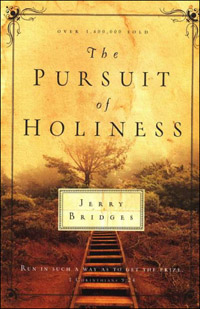 The Pursuit of Holiness
I have read this book personally and I have found the book informative and very practical. It is a book that will inspire you and challenge you to increase your pursuit of holiness with God.
J.I. Packer writes, "This classic still makes one think, pray, get real with God, repent and find joy in wise obedience more effectively than any other book I know. i cannot recommend it too highly."
John MacArthur writes, "The Pursuit of Holiness richly deserves to be regarded as a modern classic. Jerry Bridges despels some dangerous misconceptions while motivating readers with a passion for true holiness. This is surely one of the most important books producted in the past fifty years."
R.C. Sproul writes, "When Jerry Bridges speaks, I listen. His teaching on holiness is not an exercise in abstraction; it is an expression of a passion that has gripped his life and ministry."
After reading and studying The Pursuit of Holiness by Jerry Bridges, I decided to summarize the seventeen chapters in my own words so that I could share the practical applications with others who saw a need to increase the pursuit of holiness in their lives.
The Pursuit of Holiness Overview
Chapter 1 - Holiness is for Your: Holiness is for You looks at why many Christians do not experience personal holiness in their daily walk with God and why many Christians feel constantly defeated in their struggle with sin.
Chapter 2 - The Holiness of God: The Holiness of God is the basis on which God called us to be holy. "Be Holy because I am Holy" (1 Peter 1:16).
You can purchase The Pursuit of Holiness by Jerry Bridges by clicking on the following link The Pursuit of Holiness and you can download the study guide by clicking on The Pursuit of Holiness Study Guide.
Related Resources and Tips
Free Topical Sermons: Free Topical Sermons help you understand what is a topical sermon and how to write a topical sermon.
Hermeneutics: Hermeneutics is a set of principles that is used to determine the meaning of the biblical text under investigation. Understanding hermeneutics is paramount in developing a consistency in the interpretation of Scripture.
Homiletics: Homiletics is the art of preaching. It involves how to prepare and deliver a sermon.
Topical Sermon Outlines: Topical Sermon Outlines explain how to create sermon outlines so that you can preach topical sermons to your congregation.
The Pursuit of Holiness: The Pursuit of Holiness by Jerry Bridges is an inspiring book that looks at holiness which is a tremendous challenge and an awesome reminder of God's desire for His children to walk in light of His word.