The Hermeneutical Maze
A Search For Simplicity in Procedure
and Pedagogy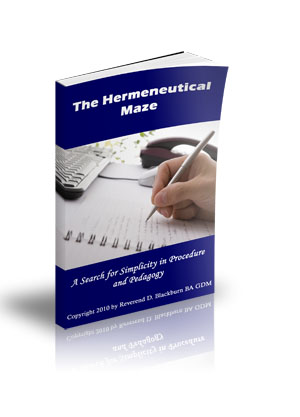 Want To Understand Biblical Hermeneutics?
When I began my theological studies, I had very little understanding of hermeneutics. In fact, I had no idea what the word hermeneutics meant! And yet, hermeneutics is fundamental to the formation of biblical doctrine.
The more I studied hermeneutics, the more I realized how foundational it is in one's theological journey. Furthermore, I discovered that most intrepretive differences in Scripture were generally related to hermeneutics.
The Hermeneutical Maze - A Search for Simplicity in Procedure and Pedagogy
The title of this book sums up what I have tried to achieve in writing this research paper. To most people hermeneutics is a maze of confusion. What I have tried to do is simplify the interpretive process in order to design a teaching syllabus for lay people in the church.
What Will You Find In This Book?
The four key terms in the interpretive process
The Grammatical-Historical Method of Interpretation expanded and explained
To a lesser degree the other methods of interpretation explained
The hermeneutics of typology
The different hermeneutics of prophecy, especially pre-millennialism and a-millennialism
The hermeneutics of the use of the Old Testament in the New
A full teaching syllabus for The Hermeneutical Maze
and more
Although I studied hermeneutics in my formal years of training; however, it was not until I wrote this research paper that I really grasped the importance of hermeneutics in the intrepretive process.
The Hermeneutical Maze
Take advantage of months of research and study and gain a greater appreciation of hermeneutics by purchasing The Hermeneutical Maze for just $4.95.

Purchase The Hermeneutical Maze and recieve FREE the 16 Sermon Outlines from Philippians (Normal Price $4.95).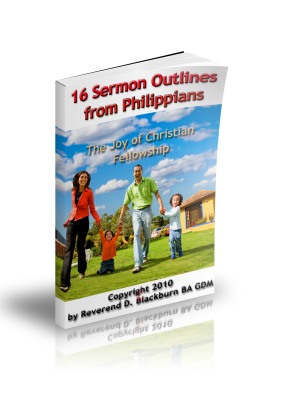 YES! I Want to...
Download The Hermeneutical Maze for a very low price of $4.95! and receive the FREE BONUS offer of 16 Sermon Outlines from Philippians (Normal Price $4.95).
PayPal - FAST - EASY - SECURE
With PayPal, you can pay with a credit or debit card, bank account or PayPal balance.
Sincerely,
Reverend D. Blackburn BA GDM

www.more-free-online-sermons.com
P.S. - My prayer is that The Hermeneutical Maze will help ministers understand the interpretive process in order to present God's Word to God's people.
Terms & Conditions
THERE IS NO REFUND ON THE PURCHASE OF THIS RESEARCH PAPER. SO PURCHASE WISELY!

© Copyright 2008 - All Rights Reserved
www.more-free-online-sermons.com